Name origin: It's said that the trees were very luxuriant in DiaoLuo Shan in ancient times. However, the local people burned the mountains to grow grains and recklessly utilized the forest resources, irritating the god. Then the god ordered not to locally offer any rainfall for three years as a punishment. As a result, the ground was baked, the crops were withered, and ordinary persons lived miserably. In order to save the fellow villagers, Nanxi, a brave and industrious young man from Miao Nationality, passed through all trials and finally climbed to the top of Sanjiao Shan at the height of 1,499 meters. He threw himself upon his knees for seven days and nights in exchange for the sacred gong that might summon rain from the god. "Xiaomei", the daughter of the god, was moved by the righteousness and complete sincerity of Nanxi, took the sacred gong from the god by strategy, descended to the world and hung the sacred gong in the highest tree in the stockaded village together with Nanxi, and beat the gong to summon rain. Afterward, wind and rain have come on time year after year, and the ground has recovered as beautiful as before. That's why it is called DiaoLuo Shan. There are also many places named in connection with this myth of ecological civilization, such as Nanxi River, Xiaomei Reservoir, Seven Fairies Waterfall, and the Sisters Waterfall.
Location, coordinates and area: DiaoLuo Shan Branch of the National Park of Hainan Tropical Rainforest is located in the southeast of Hainan Island and the east of National Park of Hainan Tropical Rainforest, and at the coordinates of 109°40'41.5'' - 110°4'42.3''E and 18°38'58.9'' - 18°51'0.1''N. It spans Lingshui County, Wanning City, Baoting County and Qiongzhong County, covers an area of 447 square kilometers, and accounts for 10.47% of the total area of the National Park. In DiaoLuo Shan, there is a core protection area of 262 square kilometers and a general control area of 185 square kilometers. The forest coverage rate reaches 96.26%.
Typical landscapes and features: DiaoLuo Shan is one of China's significant tropical rainforest distribution areas. It is one of China's rarest tropical forest ecological system types, and also a typical representative of China's tropical rainforest. In the park, there are many unique tropical rainforest landscapes, such as "Hanging Garden", "Standing Plate-shaped Roots", "The Root Embracing the Rock", "Old Stem with Flowers", "Single Tree Forming a Forest", "Regeneration of Fall Tree", "Dripping Tip" and "Strangling Plants", etc. The climate there is very pleasant, and the content of negative ions reaches 125,000 nos. / m3 at most, which ranks the top one among all identical forests in China. It is the genuine "Natural Air Anion Bar". It has won honors like "China's Forest Oxygen Bar". It is also the sunstroke prevention, health & wellness, and leisure resort in Hainan Province, and one of the best resorts at the latitude of 18°N. This area features great rainfall, abundant water resources, and greater elevation difference, as there is s a great number of valleys and waterfalls and beautiful and unique water scenery. Due to its unique location in the National Park of Hainan Tropical Rainforest, DiaoLuo Shan has "The Greatest Waterfall in Hainan" (i.e. FengGuo Shan Waterfall), as well as the Internet celebrity waterfalls (i.e. Dali Waterfall and Shiqing Waterfall) and more than 100 other unknown small and large waterfalls. As a result, it has won the reputation of "Dreamlike Rainforest and Hundred-waterfall DiaoLuo" and "The Best Waterfall of DiaoLuo". In addition to the above landscapes, there are many scenic spots such as DiaoLuo Shan Resort (the highest sunstroke prevention, health & wellness, and leisure resort in Hainan Province), DiaoLuo Small Town (the most beautiful charming small town), Heavenly Lake, DiaoLuo Sacred Tree, Old Site of Miao King Stockade, Valley Rock Patch, Xiaomei Lake, etc. and 3 natural ecological education bases, namely, lowland tropical rainforest, mountain tropical rainforest and valley rainforest.
Geological landform: DiaoLuo Shan stands in the east of Jianfeng - DiaoLuo Deep Major Fracture, and to Wanning - Maling Anticline in the northwest and Kenglong Fracture in the southeast. Generally, DiaoLuo Shan has a middle mountain terrain. The dominant elevation is above 500 meters. There are some low hills around the park. The wider intermountain basins, waterfalls and reservoirs are distributed among the hills in the middle. The rocks are mainly classified into two categories, namely, granite and mixed granite.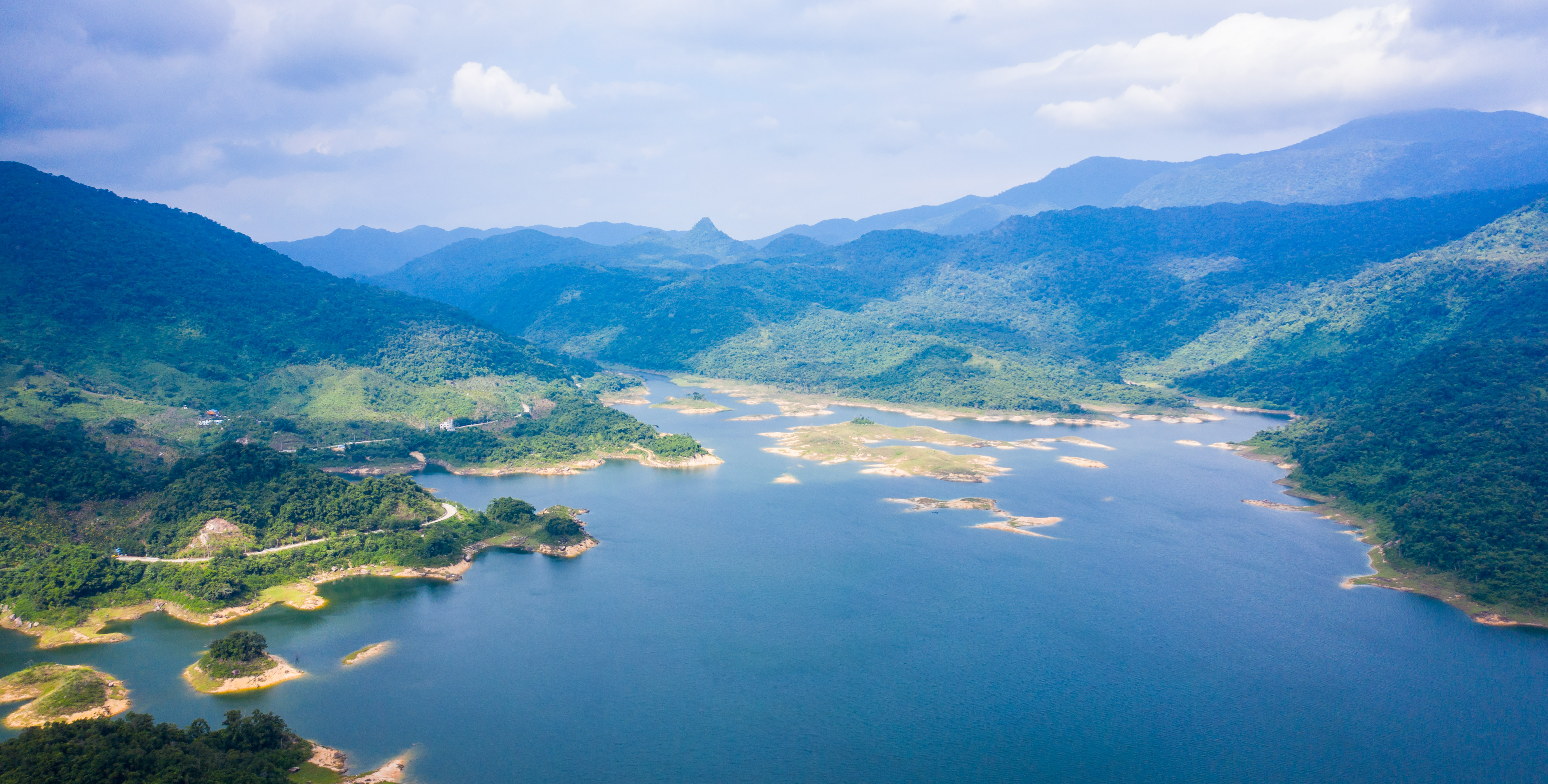 Soil: There are many soil-forming rocks in DiaoLuo Shan, mainly including the biotite-granite, granite-porphyry and mixed granitoid. Subject to comprehensive conditions such as rock type, climate, altitude and geographical location, the main soil types there are mountainous yellow soil and mountainous lateritic red soil.
Climate: DiaoLuo Shan enjoys a tropical marine monsoon climate and thus has abundant rainfall. The annual rainfall there is between 1,870mm and 2,760mm and may be above 2,850mm at most. There is also abundant sunlight and heat, with total radiation of 460 J/cm2 and an average annual sunshine duration of 1,676 - 2,150 hours. It is warm throughout the year, with an average annual temperature of 24.4 ℃. Even in the coldest month, the average temperature is 15.4℃. The average monthly relative humidity is 80% - 85%.
Water system: In DiaoLuo Shan, there are many ravine streams flowing in a relatively centralized direction. The streams at the southern slope mainly flow through rivers such as the DiaoLuo River, Nanxi River, Dali River and Baishui River, and then into Lingshui River. The streams at the northern slope mainly flow through Chengpo River and Niululing Reservoir and then into Wanquan River. DiaoLuo Shan tropical rainforest area is one of the significant sources of Wanquan River and the main source of Lingshui River. Hence, it is of great significance to regulate the water balance and ensure social and economic development in this area and its surrounding areas.
Plant resources: DiaoLuo Shan is one of the wild plant biodiversity centers in Hainan Province. It is also called a "Species Gene Bank". As recorded, there are 239 families, 959 genera, and 2,127 species of wild vascular plants. There are also 5 species of national class-I key protected wild plants (i.e. Hopea hainanensis, Cycas hainanensis, Cycas taiwaniana Carruth, Cymbidium insigne Rolfe, and Paphiopedilum appletonianum (Gower) Rolfe), and 92 species of national class-II key protected wild plants (e.g.: Heritiera parvifolia Merr., Vatica mangachapoi Blanco, Sindora glabra Merr. ex de Wit, Alsophila podophylla Hook., Alseodaphne hainanensis Merr., Chuniophoenix hainanensis Burret, Chunia bucklandioides Chang, Aquilaria sinensis (Lour.) Spreng., Firmiana hainanensis Kosterm., Podocarpus imbricatus (Bl.) de.Laub., and Cephalotaxus hainanensis Li).
Animal resources: DiaoLuo Shan is the heaven of wild animals. As recorded, there are 5 classes, 35 orders, 115 families and 369 species of wild vertebrates. There are also 11 species of national class-II key protected wild animals (e.g.: arborophila ardens, nomascus hainanus, polyplectron katsumatae, polyplectron bicalcaratum, varanus salvator, M. p. pusilla, and teinopalpus aureus) and 63 species of national class-II key protected wild animals (e.g.: python bivittatus, aonyx cinereus, silver pheasant, macaca mulatta, gallus gallus, ophiophagus hannah, spilornis cheela, black eagle, crested goshawk, milvus migrans, tyto longimembris, common kestrel, halcyon smyrnensis, psittacula alexandri, garrulax canorus owstoni, cuora trifasciata, and amolops hainanensis)