I. Overview
On April 13, 2018, Xi Jinping, the General Secretary of CPC Central Committee, delivered a speech at a gathering celebrating the 30th anniversary of the founding of Hainan Province and the Hainan Special Economic Zone. At the meeting, he stressed that Hainan should actively establish the pilot national park system and build tropical rainforest national parks. On January 23, 2019, Xi Jinping presided over the sixth meeting of the Central Committee for Deepening Overall Reform, at which the Hainan Tropical Rainforest National Park System Pilot Program was approved. On February 26, 2019, the State Commission Office of Public Sectors Reform approved the establishment of the Management Office of Hainan Tropical Rainforest National Park under the Forestry Department of Hainan Province. The management office manages seven branches of the national park at municipal and county levels, covering JianFeng Ling, BaWang Ling, LiMu Shan, YingGe Ling, and WuZhi Shan. At COP15 held on October 12, 2021, President Xi announced that China would formally establish its first batch of national parks. Sanjiangyuan National Park, Wuyi Mountain National Park, Giant Panda National Park, Northeast China Tiger and Leopard National Park and Hainan Tropical Rainforest National Park are on the list.
The Hainan Tropical Rainforest National Park (108°44'32"E-110°04' 43"E, 18°33'16"N-19°14'16"N) is located in the south-central part of Hainan Island. It covers a total area of 4,269 square kilometers, almost 1/7 of the land area of the island, and spans nine cities and counties (Wuzhishan, Qiongzhong, Baisha, Changjiang, Dongfang, Baoting, Lingshui, Ledong and Wanning). The core protected area occupies about 2,331 square kilometers, accounting for 54.6% of the entire park, while the general control area covers 1,938 square kilometers with a 45.4% share.
The national park has a forest coverage rate of 95.85%, covering more than 95% of the virgin forest and more than 55% of the natural forest on Hainan Island. It has the most concentrated, the best preserved and the most extensive tropical rainforest in China. This ecosystem is home to a variety of species and serves as an important part of the world's tropical rainforest. As the most important ecological barrier for the island also called its "green heart", it has typical value for biodiversity protection in China and beyond.
The vegetation distribution in Hainan Province is also affected by its ring-shaped stepped terrain structure that is high in the middle and low on all sides. The tropical forest ecosystems in the central mountainous areas are covered by monsoon forests and tropical rainforests in aspect of horizontal zonality. In terms of vertical zonality, there there diversified vegetation forms including lowland rainforest, montane rainforest, alpine cloud forest, and a small area of coniferous forest distributed from low altitude to high altitude, forming a complete vertical vegetation zone. As typical representatives of the tropical forests in Hainan, lowland rainforest and montane rainforest are structurally complicated, composed of abundant species of plants and animals, and imbued with rich and varied biological groups, complicated ecological characteristics and life processes, which are of great significance to the protection of biodiversity in China and even the world and the maintenance of regional ecological balance. National Park of Hainan Tropical Rainforest has some monsoon rainforests and most tropical rainforests of Hainan. The tropical rainforests in the National Park are distributed with Wuzhishan and Yinggeling in the central mountainous area as the center and then swept across Diaoluoshan in the southeast, Jiaxi and Jianfengling in the southwest, Bawangling in the west and Limushan in the north. Since the complicated mountain landforms and tropical rainforest ecosystems in the central mountainous areas of Hainan are showered with tropical maritime monsoon climate conditions, the unique, diversified and precious landscape resources have been naturally born in the National Park of Hainan Tropical Rainforest.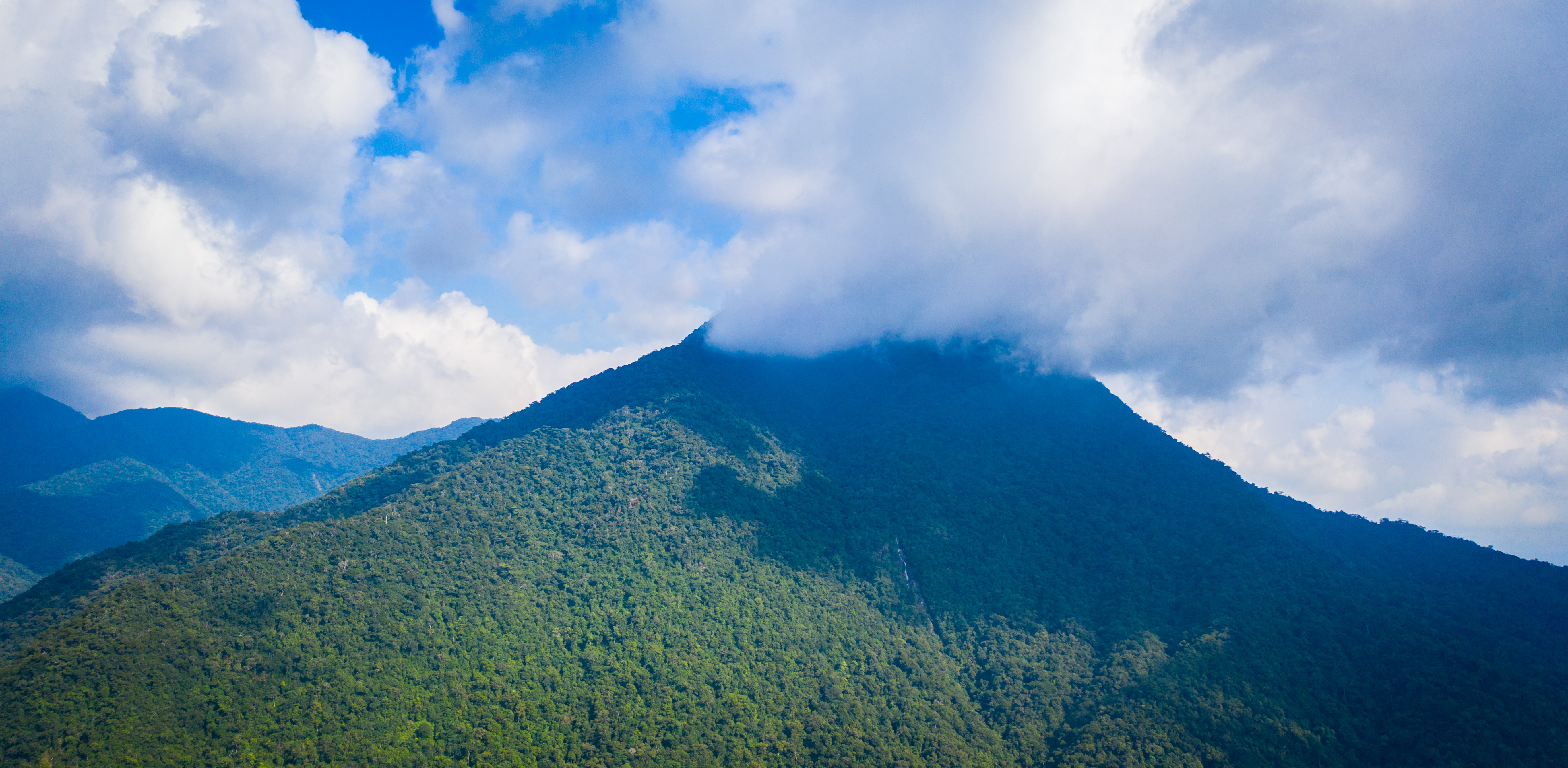 II. Distribution of Vegetation
1. Tropical lowland rainforest
Most lowland rainforests are distributed below 800m above sea level in the central mountainous areas, and as the most typical vegetation type among tropic rainforests, they are the moistest and most evergreen and have constituted a forestry community most characterized by rainforest in all ways. The representative species include vatica mangachapoi, hopea hainanensis, litchi chinensis, homalium hainanense gagnep and rarely seen gymnosperm. In lowland rainforests, buttress roots, blossoms on old stems, woody vine and other rainforest wonders are most likely found.
2. Tropical montane rainforest
The montane rainforest is a more concentrated vertical natural vegetation form that occupies the largest area among the tropical forest vegetation forms on Hainan Island and is distributed 700-1300m above sea level. The community is basically evergreen all year around. Tropical montane evergreen broad-leaved trees make its main part, gymnosperm starts to play a role of characteristic species, and the representative species include dacrydium pierrei, podocarpus imbricatus, madhuca hainanensis, and schima superba. As the altitude rises, the vegetation gradually transitions to alpine coniferous forests, and in the upper part of the vertical distribution zone, there coniferous forests are scattered and the mixed coniferous and broad-leaved forests are formed. As the forest canopy is thinner than in lowland rainforests, rainforest features such as buttress roots, blossoms on stems, woody vines and palm plants also gradually decrease, ferns and mosses become more luxuriant, gymnosperms and bamboos become more numerous, and the proportion of subtropical and temperate plant families and genera increases.
3. Tropical coniferous forest
The tropical coniferous forest is rarely seen and mostly scattered among broad-leaved forests. It seldom makes a pure forest and is mainly distributed on high mountains 1200m above sea level including Jiaxi, Yinggeling, Wuzhishan and Bawangling, among which, Jiaxi grows the most continuous and typical pinus kwangtungensis. In the low altitude zone of Bawangling, there is also the peculiar pinus latteri mason forest. According to data, the pinus latteri mason forest might cover a wider scope of natural distribution in Hainan in the history and ever widely grow in Danzhou City and Changjiang Li Autonomous County (Changjiang County) in western coastal terrace.
4. Alpine cloud forest
The alpine cloud forests are distributed on peaks 1300m above sea level and cover a larger area on Wuzhishan, Yinggeling and Bawangling. They are mostly seen on isolated peaks and ridge terrain where the habitats are open and exposed to strong winds and evaporation, low temperatures and large temperature differences, many clouds and fog and high humidity. The plant community is short and curved, with a sparse canopy, and representative species include pentaphylax euryoides, ericaceae and fagaceae trees. Because of the high humidity in the forest, epiphytic mosses and lichens are abundant, cover the ground and spread along tree trunks to the top of branches and leaves, so the bare surface is hardly seen in this habitat. Walking through the forest is like wandering in the wonderland. Cloud forest grows in forested high mountains where few people tread, and can be called "the world's least studied forest". It is the last refuse for a variety of rare and endangered plants and animals, such as yaotriton hainanensis and Yinggeling polypedatid.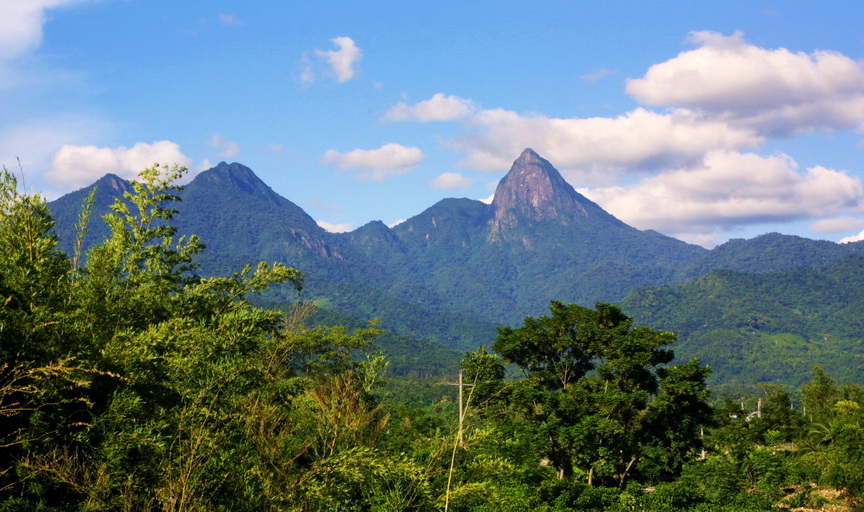 III. Core Values
Hainan Tropical Rainforest National Park is one of the 34 biodiverse hotspots in the world. It is the ecological highland with the richest forest resources in Hainan, and also the only habitat for Hainan black-crested gibbons in the world. Data records show that the national park is home to 3,653 species of wild vascular plants (6 under the country's first-class protection and 419 endemic to Hainan) and 540 species of terrestrial vertebrates (14 under the country's first-class protection and 23 endemic to Hainan). Its biodiversity index is up to 6.28, which is comparable to the Amazon rainforest in Brazil. Within its borders, there is WuZhi Shan, YingGe Ling, HouMi Ling, JianFeng Ling, BaWang Ling, LiMu Shan, and DiaoLuo Shan, which are collectively known as the "Ridges of Hainan". It is also the source of major river systems in Hainan, including Nandu River, Changhua River and Wanquan River.
The area where the national park is based has a permanent population of 24,300, predominantly simple and honest Li and Miao people. It boasts unique culture and rich folk customs represented by fascinating songs and dances as well as mysterious tattoo culture inherited by Li ancestors. Qiantie Cave, an ancient hominid site dating back to 60,000 years ago, boat-shaped house building technique, Li folk songs and traditional festival lunar March 3rd have been inscribed on the national list of intangible cultural heritage for protection. In addition, the Li brocade has been selected by UNESCO as one of the first batch of intangible cultural heritage in need of urgent safeguarding.
In the spirit and practice of seeking green development and prioritizing ecological protection, the national park makes ongoing efforts in the management of mountain, water, forest, field and lake systems, the preservation of ecosystem authenticity and integrity, and the safeguarding of biodiversity and ecological security. By doing so, it strives to provide modern people with high quality ecological products and create valuable natural legacies for future generations, which are owned by the nation, shared by all and passed on by generation after generation.