Origin of name: Situated in the southwest of central Hainan, LiMu Shan range covers more extensive area than any other mountains on the island. The main part stands at the junction where Qiongzhong and Baisha counties meet with Wuzhishan City around the mountain YingGe Ling, while the rest extends northeastward to LiMu Ling in Qiongzhong and HaoRou Ling in the southwest, just along the border between Ledong County, Changjiang County and Dongfang City. The range is about 80 km long and 13 km wide. LiMu Shan has long been hailed as the birthplace and sacred land of Li nationality. Ancient Chinese astronomers identified it as the embodiment of a goddess, who was in charge of one of the 28 mansions in the sky.
The LiMu Shan area (109°31′E-109°49′E, 18°54′ N-19°14′ N) is located within the geographical range of Qiongzhong County in central Hainan, with a forest protection area of 755,200 mu.
Geological landform: High mountains in the LiMu Shan area are the southwest-northeast offsets of the WuZhi Shan range. Rows of mountains extend from YingGe Ling in the west to the east, rising up and down on the vast land, and winding through the forest in the central region. The highest peak is LiMu Shan (1,412m), followed by SanQingLin Ling (1,062m) and YingGe Ao (1,006m). Most peaks reach 600-1000 meters high, with a height difference of 400-300 meters. Lower hills are typically 300-600 meters tall, with a height difference of 300 meters and a slope of 20-35°. Small basins and river valleys scatter among the mountains and hills. LiMu Shan is a horst block mountain with complete geological structure. It is dominated by low and high hills formed by granite dated back to Paleozoic-Mesozoic period. The soils in the forest area are mostly sandy loam and partly light loam formed by weathering of granite and sandstone. The PH value of the soils ranges from 5 to 6, or highly acid somewhere above 1,000 meters. The humus layer is 4-25 centimeters thick, the topsoil is 30-40 centimeters deep, and the soil layer is 60-100 centimeters deep. Generally, the soils are very fertile and show good drainage. The most common types of soil in the area are yellow soil (350-750 meters), latosolic red soil and laterite, with the latter mostly distributed in areas below 350 meters and providing desirable habitats for various plants, animals and microorganisms.
Climate: LiMu Shan area enjoys mild climate all year round. It is seldom very cold in winter or very hot in summer, with an average annual temperature of 22.5 ℃. It is a resort for adventures, sightseeing and religious tours. The LiMu Shan area has a tropical monsoon climate with less distinct four seasons. It is neither too cold in winter nor too hot in summer but warm and humid all year round with abundant rainfall. The average annual temperature of the area stands at 21.5 ℃. In the coldest month (January), the average temperature is 16 ℃, while that of the hottest month (July) hits 26°C. The average rainfall in a year is 2,343.1 mm, with the rainy season (May-October) accounting for 83% of the annual rainfall (1,809 mm) and the precipitation in October hitting 254.7-520.9 mm/day. The amount of annual evaporation ranges from 1,391mm to 1,426 mm. The relative humidity is 87%-88%. The average wind speed of a year stands at 1.1 m/s, or 24 m/s at most. The wind generally blows to southeast and west directions. There are a total of 1,773.5-1,918.3 hours of sunshine in a year, making up about 40% of the total. These favorable climate conditions make the reserve an ideal resort both in summer and winter. Abundant light, heat, soil and water resources in the reserve thus allow wildlife to abound.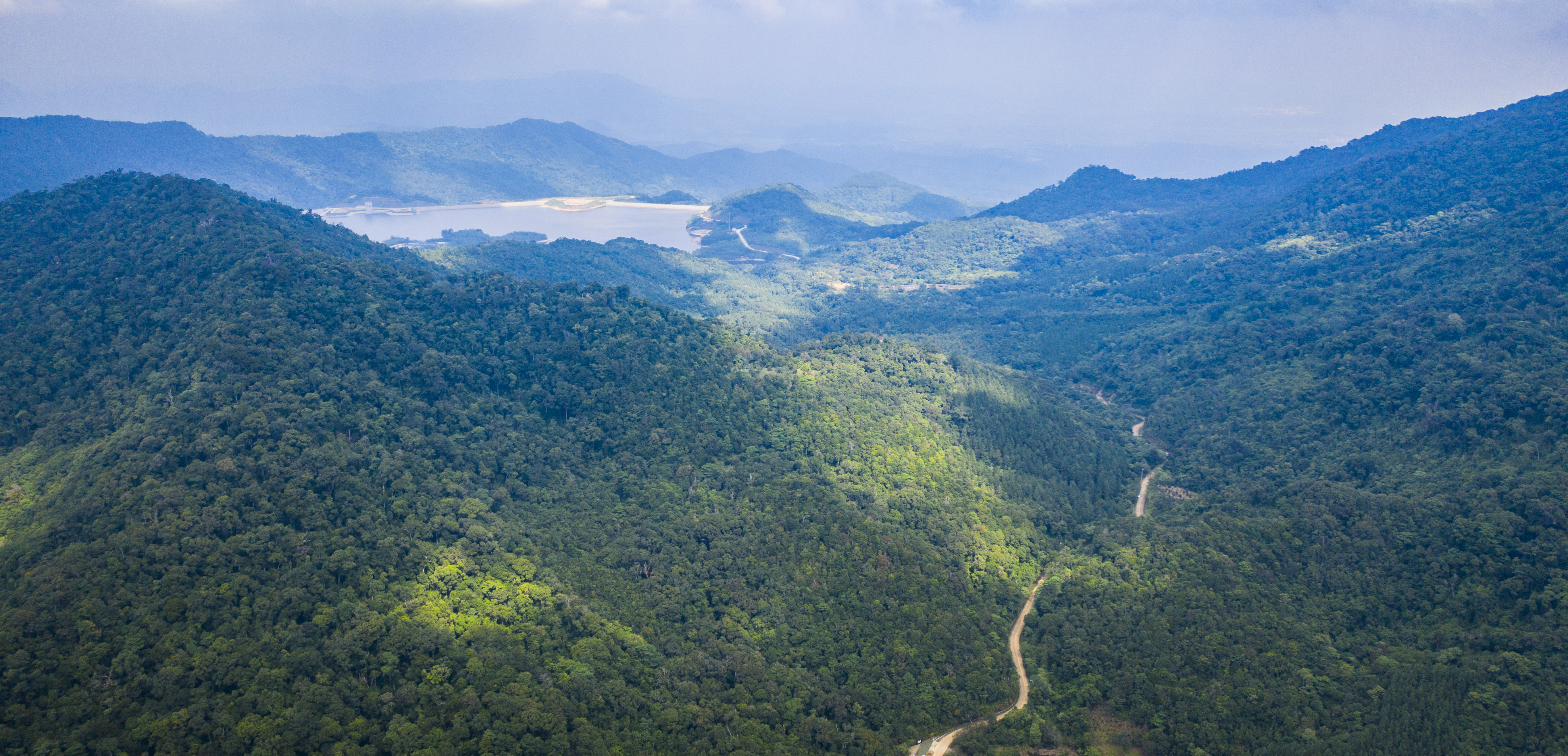 Plant resources: LiMu Shan area is one of the rare pristine tropical rainforest reserves in China. It is one of the areas with the most abundant tropical biological resources in China. There are 487 species of plants in 94 families, among which more than 115 species are rare and important economic plants. In the montane rainforest and ravine rainforest of the area, there are over 120 species in every 100 square meters, many of which are of great production and research significance. Monsoon forest normally grows at the elevation of 300-700 meters above sea level; tropical ravine rainforest, valleys about 500-800 meters high; evergreen and broad-leaved forest, 700-1,100 meters; and the summit mossy dwarf forest (mostly shrubs), above 1,200 meters. Many rare tree species are found in the LiMu Shan area, among which 55 species are under the country's key protection.
Animal resources: The complicated landform, favorable climate, water and soil conditions, as well as the dense forest and abundant fruits make LiMu Shan area a safe and comfortable habitat for wildlife of all kinds. About 100 kinds of wild animals inhabit the forest area, among which many are native to the LiMu Shan reserve. 11 out of 37 species of amphibians are only found in Hainan, and 8 kinds are endemic to China. There are 58 species of rare and endangered wild animals in 28 families as listed below, all of which are protected at the state and provincial levels.
1. National first-class protected animals (7 species): Hainan partridge, clouded leopard, Hainan peacock-pheasant, monitor lizard, large Indian civet, pangolin, and small Indian civet;
2. National second-class protected wild animals (27 species): python, macaque, sambar, black giant squirrel, Sulidae , all species of birds, eagle, shikra, Chinese sparrowhawk, silver pheasant, jungle fowl, gray crane, white-bellied green-pigeon, thick-billed green-pigeon, red-breasted parakeet, greater coucal, lesser cuckoo, owl, brown wood owl, white-throated needletail, silver-breasted broadbill, Vietnamese black-breasted leaf turtle, Chinese golden coin turtle, impressed tortoise, tiger frog and Hainan turtle;
3. Wildlife under the protection of Hainan province (24 species): leopard cat, common palm civet, masked civet, hairy-footed flying squirrel, porcupines, elk, crested myna, common hill myna, swift, partridge, Oriental turtle dove, spotted dove, red turtle dove, big-headed turtle, tortoise, yellow pond turtle, flowerback box turtle, krait, coral snake, cobra, King cobra, dark-spotted frog, giant spiny frog, and spot-legged tree frog.
LiMu Shan is also known as the kingdom of butterflies. There are 18 species of butterflies in 11 families discovered in the dense forest, of which 7 are very precious in the country, including Papilionidae, Nymphalidae and Pieridae. These butterflies have significant value from scientific research, medical and economic perspectives.
Tourism resources: LiMu Shan, a holy land of the Li nationality, has been known as the cradle of the Li people since ancient times. The myths and legends of the Mother of Li are deeply rooted in the profound culture of the area. Its forest is home to more than 4,300 species of animals and plants. Major attractions in the LiMu Shan area include Limu Temple, Limu Statue, stone mortar, Quling Ancient Forest Garden and so forth. What impress the visitors most are the high mountains, dense forests, abundant rain, unique scenery and mild climate here. LiMu Shan has been reputed as "the Cradle of Li people", "the Heart of the Hainan Island", "Source of Three Rivers", and the "Origin of Aloes".