I. Introduction
Name: Bawangling got its name from the cry of black bears, the regular visitor of the area, whose growl resembles the bark of dogs, literally "Ba" in local dialect. In 1997, the local forestry authority changed the name Bawang "坝王" into today's Bawang "霸王". In August 2020, the Bawangling Branch of the Management Office of Hainan Tropical Rainforest National Park was established on the basis of the former Hainan Bawangling Forestry Bureau (Hainan Bawangling National Nature Reserve Administration) and Hainan Houmiling Forest Farm (Hainan Houmiling Provincial Nature Reserve Management Station). It is a division-level state-financed public welfare institution under the Forestry Department of Hainan Province, and it consists of 12 management stations and 29 management sections.
Location & Area: The Bawangling branch (108°55'E-109°17'E, 18°48′N-19°12′N) ) is located in the southwest of Hainan Island, covering a total area of 211,687 acres. It borders Baisha County to the north and east, Changjiang County to the west, and Dongfang City to the south.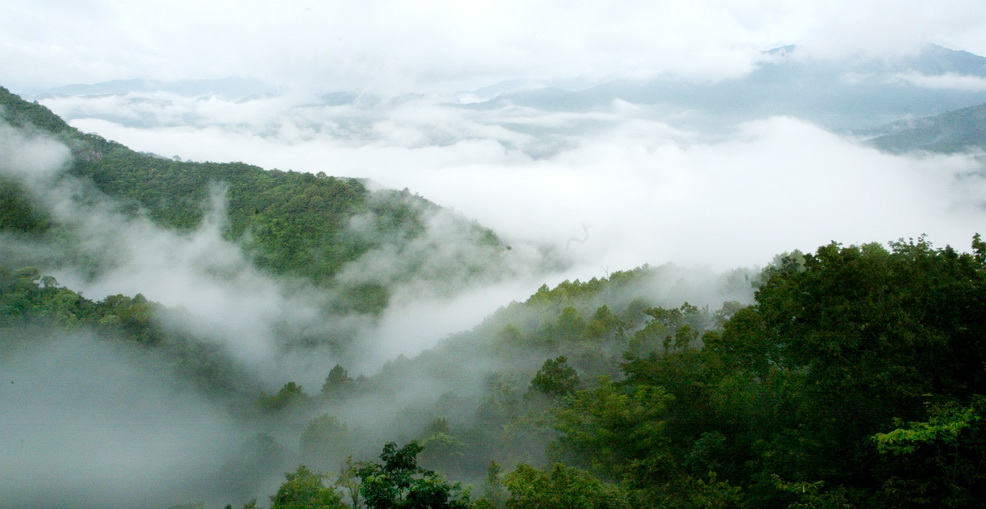 II. Biological Diversity
Due to its abundant wild animal and plant resources, BaWang Ling of the National Park of Hainan Tropical Rainforest is hailed as "Green Treasure House" and "Species Gene Bank". In the park, there are 416 species of terrestrial vertebrate wild animals and 10 species of Class I national protected animals (including nomascus hainanus, panolia eldii, polyplectron katsumatae, giant lizard, Hainan viverra zibetha, viverricula indica, arborophila ardens, egretta eulophotes, M. p. pusilla, clouded leopard, etc.). Nomascus hainanus, one of the most endangered primate species in the world, can be found only in BaWang Ling now with a population quantity of 35 in 5 groups and has been listed in Class I of national key protected animals. They are really indigenous in the island and are indicator species for the ecosystem integrity and authenticity of Hainan's tropical rainforest. There are also 64 species of Class II national protected animals (including Hainan sambar deer, silver pheasant, etc.), over 130 species of birds, more than 2,100 species of insects, In the park, there are 2,523 species of wild vascular plants, including 8 species of Class I national protected plants (i.e. Cycas hainanensis, Cycas Cucurbita, Cycas longtail, Hopea hainanensis, Woonyoungia septentrionalis, Calanthe sieboldii Decne., Cymbidium insigne Rolfe, and Paphiopedilum appletonianum (Gower) Rolfe), and 95 species of Class II national protected plants (including Keteleeria hainanensis, Vatica mangachapoi Blanco, etc.), as well as 110 species of orchids and 335 species of fungi. In December 2017, the Dacrydium pierrei Hickel and the Homalium hainanense Gagnep. in the park were selected into the list of the most beautiful ancient trees in China by the Chinese Society of Forestry (only the two trees included in the list in Hainan and a total of 85 trees included in the list in China).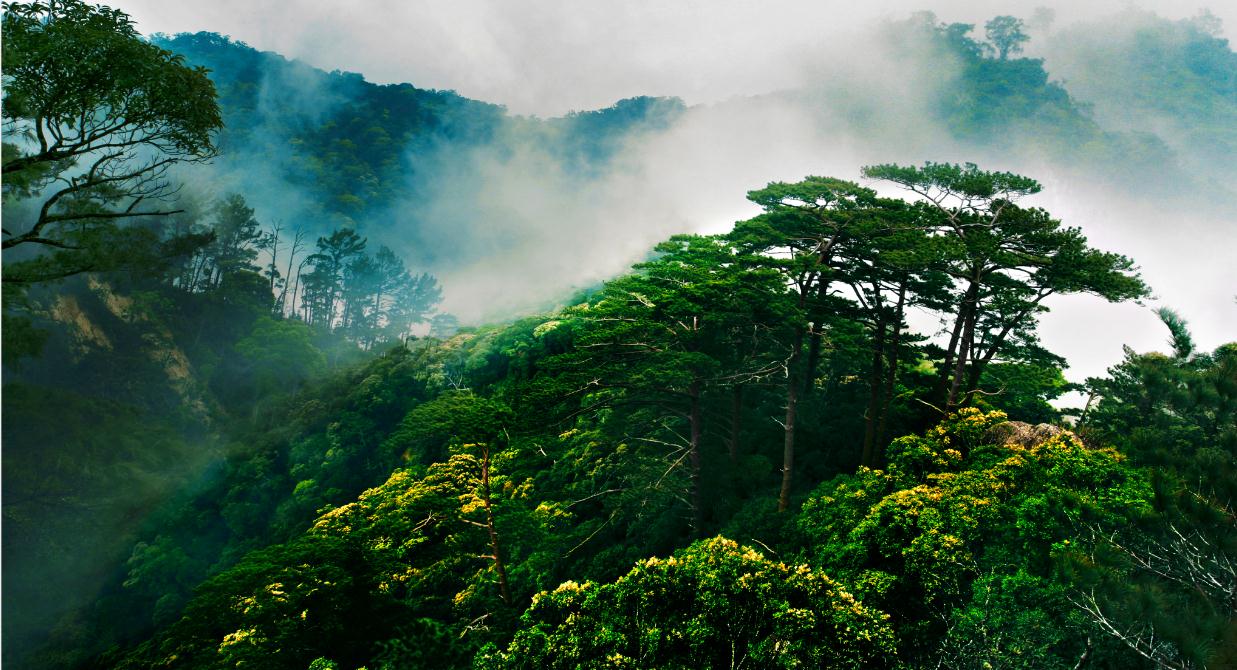 III. Natural Conditions
(I) Landscape resources. In the park, there is the best-preserved tropical rainforest in China, the famous nomascus hainanus, unique hydrological landscape, supernatural strange rocks, mysterious cavernous structures, overspreading blooming flowers in all seasons, and prevailing Li ethnic customs. Unique tropical rainforest wonders can be found everywhere, such as "Standing Plate-shaped Roots", "Old Stem with Flowers", "Hanging Garden", "Single Tree Forming a Forest", "Epiphytes that Can Climb", "Winding and Strangling Plants", etc. Consequently, it enjoys good reputations such as "Forest of Lord", "Wood of King", "Strange Rocks", "Flower World", "Rare Apes" and "Warm Spring".
(II) Topography and landform. In the park, there are three major mountain ranges, namely, Yajia Daling, Qicha Daling, and Huangniu Ling. Among them, there are criss-cross branch mountains. And Qicha Watershed, Wangxia Watershed and Baisha Watershed have been formed accordingly in general. The terrain is high in the south and low in the north and complex there. It consists mostly of mountains and valleys. There are many streams with big vertical drops in the valleys. Besides, there is the third highest peak in Hainan Province — Mihou Ling — with an altitude of 1,654.8 meters, and the fourth highest peak in Hainan Province — Hei Ling — with an altitude of 1,560 meters. In the park, most parent materials are deep and thick red weathered crusts and the soil is represented by the laterite.
(III) Climate features. It stands in the tropical monsoon climate zone, where the four seasons are not clear. It is strongly affected by the monsoon, with an annual average temperature of 21.3℃, an average annual rainfall of 1,657mm, and higher relative humidity. The fogs & dews are often seen on the mountain. The average annual relative humidity is 84.2% and the forest soil is humid all the year round. Most of the surface waters in the park belong to the Hainan Changhua River Water System, and some of them to the Nandu River Water System. And there are three major rivers in the park, namely, Nanyao River, Qicha River, and Nanqi River. The negative oxygen ions in the area are 60-120,000/cm3, 200-300 times that of an ordinary city.